Last summer I put of over a hundred bandit signs without any problems or difficulties with the exception of 1 phone call that was ignored.  This spring I was anxious to get out there and start hanging my signs to get another marketing stream back on track.   At the first sign of warm weather that was here to stay, I hit the streets early.  I spent an entire morning hanging signs on telephone poles with my sign stapler and putting the signs on H-wire's in the ground.  After 3 hours of scouring the city for prime traffic locations I was finished and felt accomplished.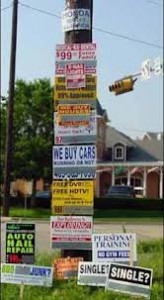 2 days later I get a very angry voice-mail from the "sign police" threatening prosecution.  I was stunned everywhere I placed my sign there were signs already posted, but for different things (flag football, flower shops, etc).  I made a point to call back the sign inspector to try to clear the air and avoid prosecution.  When I talked to him he informed me in a rather aggressive manner that the city was tired of bandit signs and decided to take a harder stance this year.  Instead of just the typical phone call they were planning to prosecute, which really means a fine.  I was able to clear things up by pleading negligence and promising it would never happen again.  I was relieved when the phone call ended and there would be no legal action taken against me.  A few minutes later reality hit me that now I have a box of signs and have just been shut down for the mean time.
Word of advice to all new investors and wholesalers, make sure that you are aware of the rules in your target city and how serious they are about persecution before you start posting signs.  Along with that you have to decide what you want your reputation to be in your target area.  I'd prefer to do things ethically and work to build positive relationships in the community I plan to work in.